Starting cooperation with a fulfillment partner from A to Z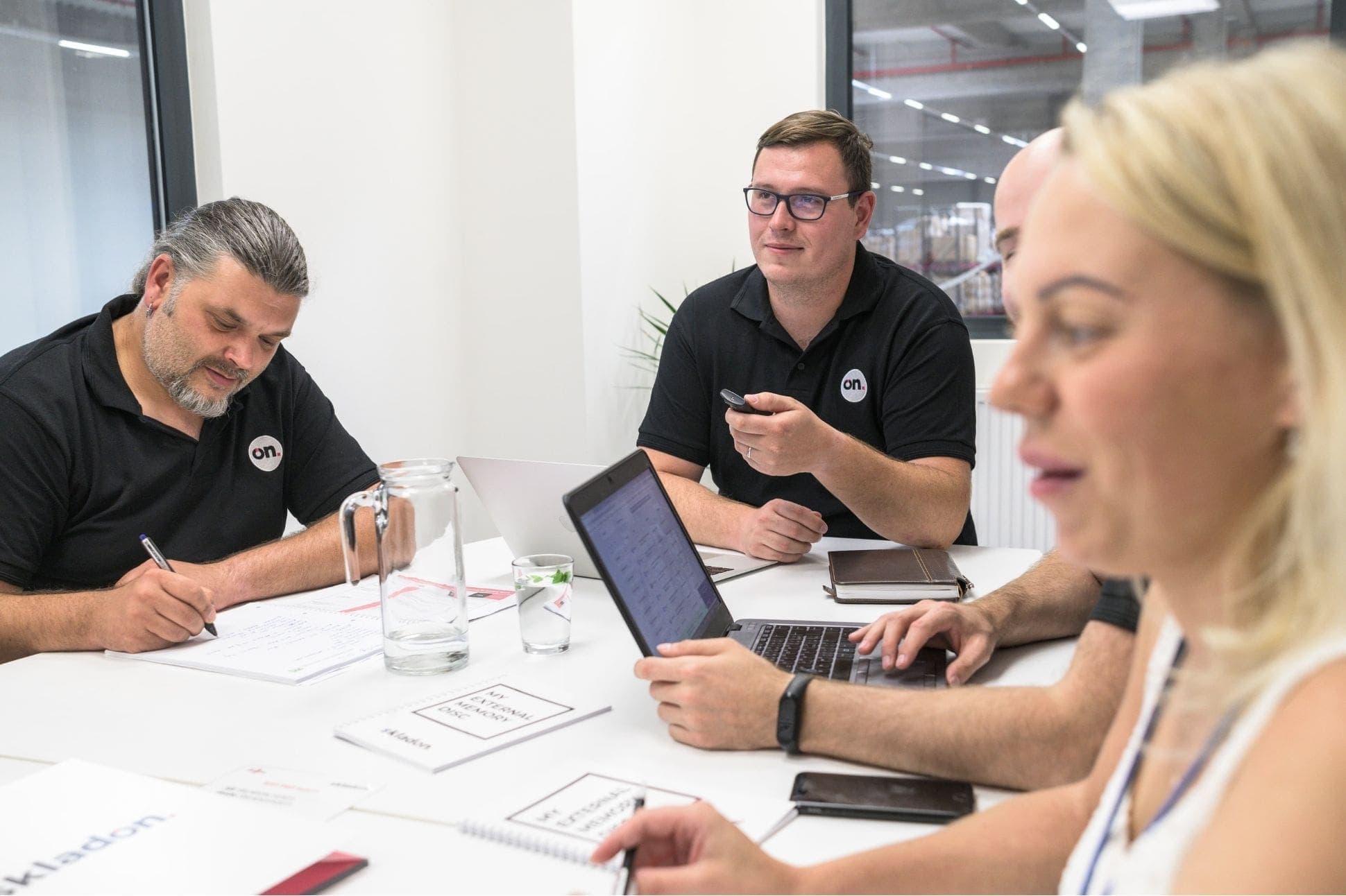 In practice, online stores owners often ask us how onboarding a new client actually takes place, i.e. the process of transferring the logistics of the online store into our hands. No wonder, because the process consists of several steps.
What does this onboarding process look like? What are the ideal questions to prepare for from a logistics provider? Or how do we approach onboarding in Skladon? Read on in our article. An article that we had to generalize to some extent, because the competition never sleeps. Anyway, we offer you a general overview.
How to choose the ideal fulfillment partner
However, let's take a step back for a start. This is the selection of the logistics partner itself, because this is where it all begins. Choosing the right one can save you both wrinkles and sleepless nights.
Whether you're at the stage where you've decided to hand over the logistics or you're further along – you're already in negotiations with your future partner(s), there are bound to be a number of questions running through your mind. In our experience, for example:
How to choose your future fulfillment partner?
What questions to ask to make the onboarding process and future cooperation as smooth as possible?
What to think about and what to prepare for a successful cooperation setup?
For this purpose, we have prepared a cookbook called "Questionnaire for choosing the ideal fulfillment partner", which can be downloaded here. Start with a definition of your business specifics and expectations from future cooperation, supported by a thorough market research.
Catch everything in time and eliminate your concerns about logistics outsourcing. Try to banish thoughts of whether this kind of collaboration could damage your brand, or even more, jeopardize your business. Choose a partner that is tailored to your online store's needs with its internal setup, flexibility or logistics operations.
The output of our questionnaire will provide you with a comparison of the results of several fulfillment companies, i.e. the basis for your next logistics direction. More detailed information on how to use the questionnaire can be found here.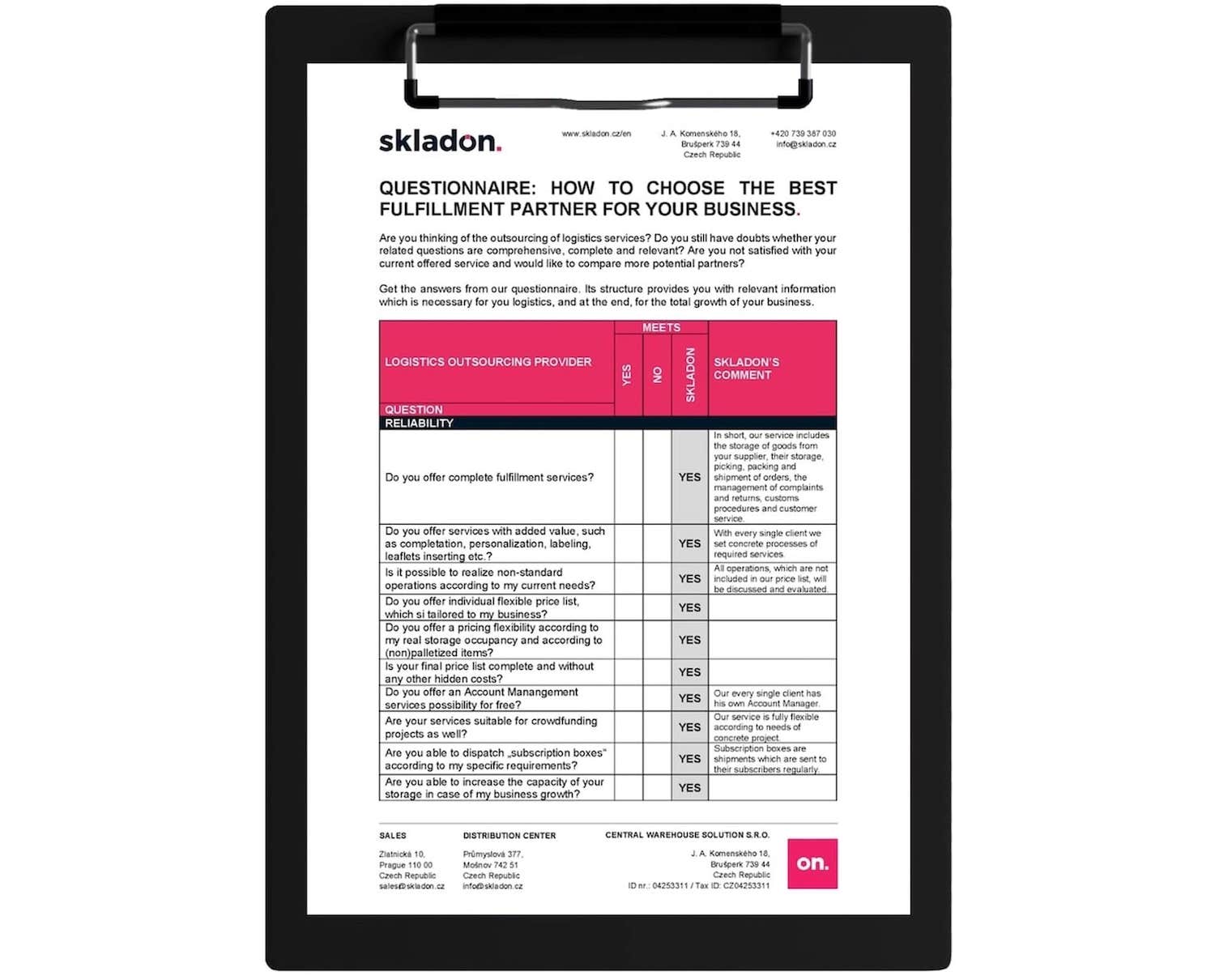 Choosing a fulfillment partner and first steps
Have you already chosen your logistics partner? Congratulations! However, as with recruitment, it remains to be seen to what extent your winner can turn their promises into reality. How capable is of making your logistics a real competitive advantage across the industry. Which should be the main goal of the cooperation.
Input data for the quotation
For the initial meeting, prepare for what is called an initial screening. Gradually you will be asked to answer your logistical figures, specification of existing solutions or needs tailored to your business. There's a reason for all of this – every client is unique, sends different types of products, has different requirements for warehouse operations, etc. The result of this screening is the sending of a customized quote.
* For the initial meeting, prepare for what is called an initial screening. Gradually you will be asked to answer your logistical figures, specification of existing solutions or needs tailored to your business. There's a reason for all of this – every client is unique, sends different types of products, has different requirements for warehouse operations, etc. The result of this screening is the sending of a customized quote.
** More information on pricing is available from the independent US portal fulfillmentcompanies.net.
To at least partially uncover the cards, during the initial screening you will be asked about the following areas:
Specifications of your product
Size and conditions of currently used warehouse space
Special requirements for receiving goods
Special requirements for storage and other handling
Requirements for kitting
Requirements for transport of goods
Questions about packaging and filling materials
Details on return logistics, etc.
Quotation
The quotation will tell you approximately how much you will be billed for each warehouse process in the model month. This brings us to one of the advantages of logistics outsourcing… namely that by doing so, you turn your fixed costs into variable costs, which in some cases leads to significant logistics savings. So if you decide to outsource your logistics, you will only pay on a monthly basis for the warehouse space you actually need and for the warehouse processes that were needed in that month. Regardless of your seasonality, marketing activities, etc.
In Skladon we send quotations, after receiving the above input data, in units of days. We also recommend follow-up meetings to our clients, during which we check, explain and, if necessary, optimize the quotation.
* In addition to the absolute values, we also provide the final price in the model of the total price for shipping one shipment, according to the information you send. Which is a figure you can compare with your existing solution. If you don't know how much it currently costs you to ship one order, we recommend downloading our online calculator. We've written a full working guide with the calculator here.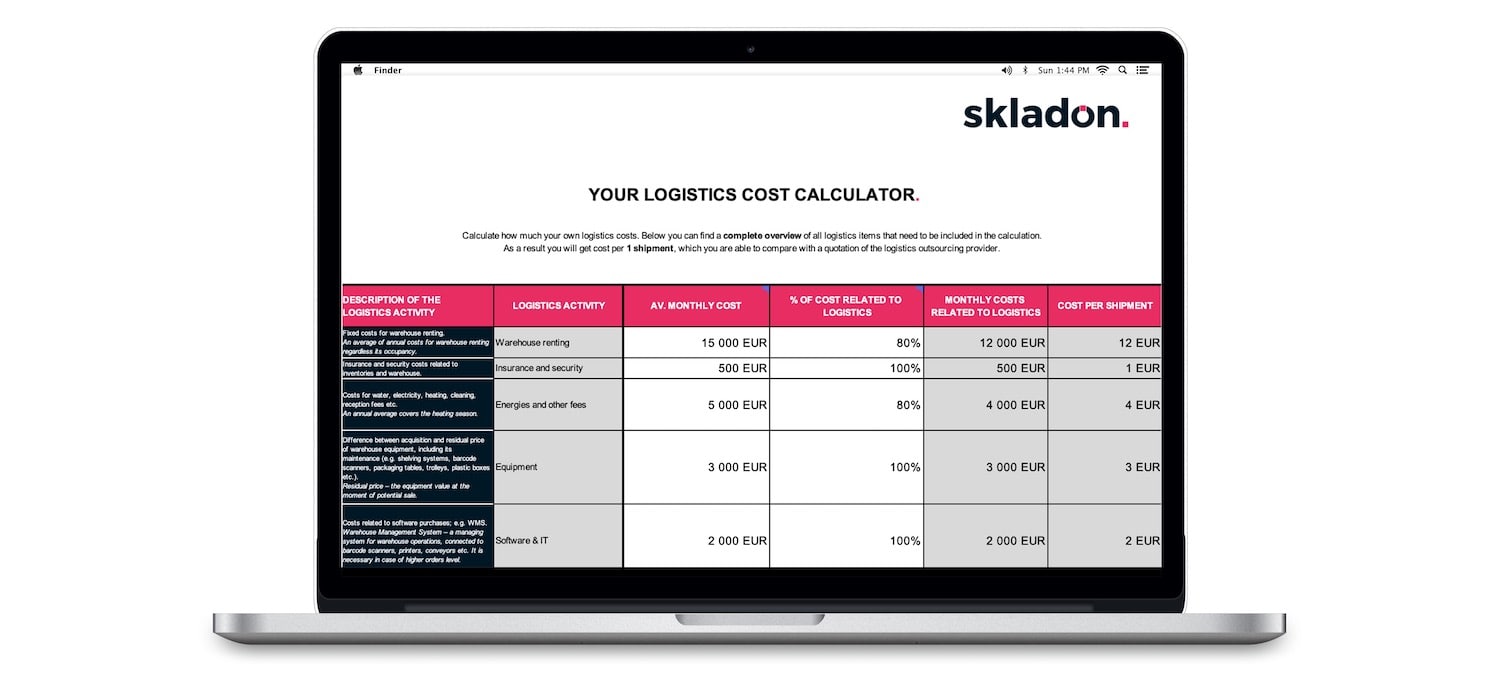 Starting the onboarding process
After both parties have agreed on a price offer, the onboarding process begins, or the complete handover of your logistics into the hands of the fulfillment partner.
At Skladon, we manage the onboarding process exclusively on a project basis, thus trying to avoid unexpected problems, time delays, discommunication, etc. We have a clearly defined process flowchart, a dedicated onboarding team of specialists or solutions for individual crisis scenarios.
Initial questionnaire and communication settings
The first step is to fill in the initial questionnaire – billing details of the online store including other contacts. We use the information provided to create a binding contract, for internal record keeping, setting up accounts with selected carriers, invoicing or for setting up accounts in the MySkladon client application.
* Once you have established an account with the carriers, you benefit from another advantage of logistics outsourcing. In the vast majority of cases, your account is structured under the logistics partner's account. In other words, you have access to volume discounts for shipping, which are generated by the accumulation of shipments from other online stores using the services of your logistics provider and the same carrier. These discounts can be up to 30% of your original amount.
It is important to set up a communication matrix from the beginning for a mutually agile, objective and effective cooperation. This is doubly true when onboarding a large client, where the structure is much more complex. The aim is to establish direct contact between the departmental liaison officers on both sides, who have detailed know-how in the field.
System connection
The aim of the system connection is to ensure a mutually error-free automatic data flow – i.e. between the online store and the fulfillment system of the provider. Here we highly recommend choosing a partner that has a wide range of add-ons, plugins or applications for online store platforms solutions. If you are running your online store on your own platform, the provider must offer you their API documentation for connection.
* TIP: Try to avoid outdated functionality and order transfer using exports etc. Reduce your manual "extra work" to a minimum and track your logistics online in the app, ideally in real time.
As well as the requirements for warehouse operations, the complexity in connecting an online store can be highly individual. Are you planning to sell your products through marketplaces? Do you operate multiple online stores? Do you want to test a future partner and start working with them to ship only a part of your product portfolio? What carrier products or payment methods do you offer? Do you plan to ship only to the Czech Republic or worldwide? After answering these questions, you will be informed immediately about the complexity and expected timeframe of the connection.
During the entire system connection process, you are ideally in contact with one IT onboarding specialist of the logistics provider. With a reliable partner, you do not have to worry about your technical ignorance. The complete process first takes place on a test interface, after monitoring and testing all of the above scenarios in parallel with the physical transport of your products to the new partner's warehouse, everything is then migrated to the production version.
Other conditions for starting the cooperation
Initial training in the client app
Nowadays, a reliable fulfillment professional has technology and innovation hard-coded into their DNA. These, in addition to the above, also concern the applications through which they inform their clients about their complete logistics status. More advanced players in real time, 24/7 and on any device with an internet connection.
At Skladon, we use the MySkladon application for this purpose, which fulfils all of the above. During onboarding, we guide the client through the individual functionalities, i.e. managing their orders, inventory, receipts, returns or other admin options. In this way, our clients get a useful tool for their reporting, information for communication with their customers or a basis for further management of their warehouse management.
Setting up the packaging process
The packaging process can also be highly individual for online stores. Some online stores focus more on price, while others focus on eco-friendliness or premium packaging in an effort to improve their customer experience, increase customer retention or increase lifetime value. Some require only product insertion in packaging, others want to add package inserts, vouchers, gifts, dedications or other (personalised) extras. Some completely hand over the management of packaging materials to the new partner, while others require packaging their shipments in their own boxes or fillers, using branded tapes or stickers.
At Skladon, we are well aware of how important originality of packaging is for our clients. For this reason, we try to be as accommodating as possible. Before the first loading, we have a mutually agreed packaging procedure with each client, which is binding for us in future operations.
Another advantage of logistics outsourcing comes when the client decides to hand over the management of packaging material to us. They get quantity discounts on purchases, which work on the same principle as for transport, and they also do not have to manage their packaging account – they do not have to keep track of stock levels and subsequently order materials from their suppliers.
Setting up access and training in the ticketing portal
During the logistics outsourcing, sooner or later operational issues or requirements arise, such as cancellation of orders, changes in the content of already prepared orders, ordering pallet transport, etc.
Some of the competitors use e-mail, telephone or other communication channels for this communication, which leads to fragmentation of attention and subsequent inefficiency. At Skladon, we decided to communicate via a ticketing portal, where each client has an agent – a representative from our customer care team. A representative who knows the client's history, the most common requests and their solutions, specifics, etc., which are prerequisites for further time savings. Communication in this way is direct, other advantages are easy traceability or internal reporting, which serves as a basis for further motivation.
"During our cooperation, we also receive inquiries from clients about other departments, most often IT, logistics or finance. We don't transfer our clients anywhere and resolve the query internally. The result is a welcome direct communication without unnecessary delays," Veronika Vrábelová, Account Manager.
Physical movement of goods
Transfer of your goods from your existing premises to the distribution center of your logistics partner – another point to start a functioning cooperation. Whether just a part of your product portfolio or complete stock. Even from multiple warehouse locations of the online store. As a rule, the client has two options for the transport – to arrange it on their own or to use the offer of a new partner who is able to arrange it at a discount.
When communicating about the transport and subsequent first loading, a date is usually agreed upon to ensure staff capacity. The (special) storage requirements are communicated in advance, whether in terms of temperature or humidity, the ideal type of storage positions (shelf / pallet) or system options for storage positions (single / multi SKU positions*).
* Only one type of product can be stored in a single SKU position (e.g. red Kilpi T-shirt, size L), multiple types can be stored in a multi SKU position (e.g. 5 different brands of lipsticks). The reason for this is to save space and reduce the invoice price for storage.
Completion of the onboarding process
Handover to customer care
Once the above points have been completed, the final step comes next – the formal handover of the client to the assigned customer care agent who will be at the center of the client's future operations. In practice, this concludes the project for the onboarding team.
The functioning and communication with the fulfillment partner may differ significantly after the official start of the cooperation. "We make sure that the client always has a specific "officer". In general, we know that some of our competitors use (external) call centers, answering machines, voice robots, etc. for this purpose. We want to avoid this as much as possible, we believe in a personal and direct way of communication," Michael Vavřík, Account Manager.
Output onboarding questionnaire
Like any other project, the onboarding project needs to be continuously improved. This is doubly true when multiple members are involved in the process. And it is for this reason that we send an output onboarding questionnaire to graduates at the end of the onboarding process.
"During the completion of the output onboarding questionnaire, our clients have the chance to comment on individual departments or people they have come into contact with along the implementation journey. We map these opinions, report back to management and set optimization steps as a result," Tomáš Kohút, Marketing Manager.
Newsletters
One of the hallmarks of successful logistics outsourcing is the elimination of the client's need to physically visit the distribution center. However, at Skladon, we still feel the need to keep our clients informed of new developments, whether company news, from the distribution center or from the MySkladon app.
"We communicate changes and new features in MySkladon to our clients on a monthly basis. As a technology company, we operate on a sprint basis where we are constantly pushing our product. We communicate these improvements to our clients with a clear goal – to stay up to date and provide tips for working more efficiently with the application," Štěpánka Coblová, Quality Assurance Manager. "The same applies to communicating news from our distribution center that directly affects our clients," Lukáš Střalka, Warehouse Supervisor.
Personal approach and emphasis on technology – the basis for carefree onboarding
In our article, we have shown how important it is to manage the onboarding of a new client in a project-based manner. The process usually involves multiple representatives from both sides, and everything is done in synergy.
"During onboarding, the client may feel that some of our questions are unnecessary or irrelevant. However, the breadth and detail of the information provided also determines the level and quality of the onboarding and subsequent collaboration," Max Kovář, Logistics Director at Skladon.
The onboarding process is all the faster and smoother if you choose a logistics partner for your future cooperation that is sufficiently experienced, has a broad team or technical background. Who takes a personal approach and is willing to adapt to your specifics. Only with this mind-set can you eliminate unnecessary delays, inconsistencies or barriers that can hinder your business growth.
"The connection of our online store with Skladon works great. I can recommend Skladon for their professionalism and great technological background. I can't imagine doing business without an external fulfillment center anymore," Vít Libovický, Mementerra.
For these reasons, we recommend a thorough market research from the outset, including preparation for the initial meeting. You want a partner that will be able to give you a logistical competitive advantage in your sector..
"The icing on the cake is that it is cheaper for us to logistics outsource than when we used to handle logistics internally with our own warehouse and warehousemen. After several months of working with Skladon, we can only say that our only regret is that we did not approach Skladon long ago," Martina Kovačová, co-founder of zKokosu.

Tomáš works in Skladon as Marketing Manager since 2018. He writes articles, case studies and other educational material that helps companies optimize their logistics.